The one time of year when you'll get the most use from your outdoor space is during those warm summer months. If you haven't yet gotten your outdoor patio looking like a place you want to spend a lot of time, there's work to be done!
Here are a few great tips for getting your outdoor space looking fantastic for your next summer party:

[toc]
1. Clean up! Make your patio tidy!
​Nothing deters you or your guests more than a dirty patio. Who wants to go and sit on chairs covered with dirt and cobwebs or to eat off a table with a clean spot on it?
​
You can buy or rent a pressure washer, if you don't already have one, to give a good clean to the gutters, the fence, the driveway, the patio floor, and anything that needs cleaning.
​
Give your outdoor furniture, flooring, and anything else in the area a good scrub to make sure it's ready for all the use it will be getting this summer. Check these great tips on how to clean and maintain patio furniture.
2. Maintain your Grill – or Add One!
If you have an outdoor grill, inspect it to make sure it's in great shape. You'll probably have to clean it up a bit, so get a damp cloth and wipe down the inside. Some grills don't do well with water, so you can just use a scraper to get off the grime without the risk of rust.
​
Don't have a grill or cooking feature of any sort? Get one! This is one of the simple most atmospheric things you can get for your patio. A grill or outdoor stove will make you want to cook, eat, and spend hours outside on the patio.
​
Food smokers are becoming more and more fashionable and easier to use so you might want to consider to add one to your patio.
3. Create an Outdoor Bar
Everyone will want to come and spend their afternoons or evenings on your patio if you add a mini bar. Upgrade your summer drinks to get some style into your life, rather than sticking with ice coolers and plastic cups all the time.
​
Outdoor bars don't have to be elaborate to be useful. Making it functional is the best thing you can do, so focus on that and you'll end up with something great that you'll actually be using more often. As long as it can fit glasses, a few bottles of drinks, and some accompaniments and shield them from the elements than you can consider it a success. Some people like to use a rolling cart instead of a static table.
​
If you are more ambitious, you can build a bar yourself with bricks or pallets and even do something as sophisticated as a bar shed, which are trending right now.
​
4. Add a Canopy or a Gazebo
​
We love the summer warmth, but too much sun can ruin any afternoon. It's very important to provide proper shading for your backyard.
​
Also, those sudden summer showers might spoil your get together unless you're covered from the elements. It's not a good idea to wall in your outdoor space too much, but a simple canopy covering, pergola, or gazebo will be the perfect solution to your sun and weather woes.
​
Canopies are the cheapest options and they can come in a lot of different styles to match your budget and needs the best. If you love soaking up the sun more often than not, get a roll-out canopy that you can retract and expose you to the elements at any time.
​
Of course, you can stick with an outdoor umbrella. The trend is to go big and to go bright. A huge, brighly-colored shade is what you need this year.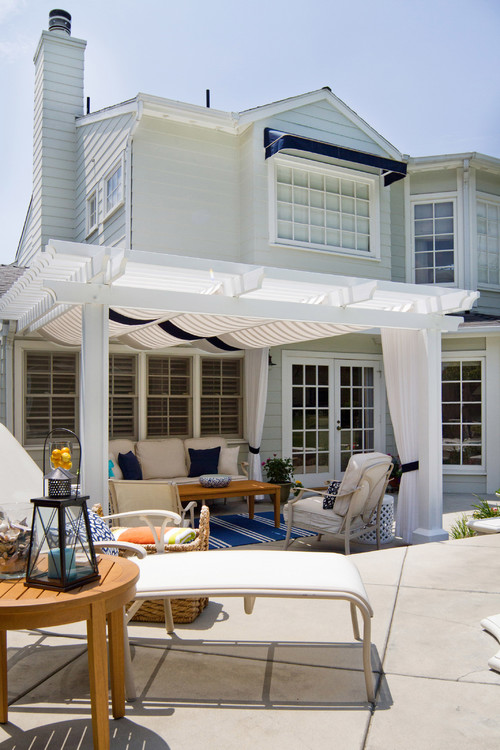 Photo by Talianko Design Group, LLC – Discover patio design ideas
5. Improve Ambiance with a Fire Pit or a Fire Table
Up your patio game with a fire pit. Live fires make for pretty fantastic outdoor ambiance. Who doesn't like to sit around a fire, sip a nice drink, and talk about anything and everything? Nothing brings conversation and warm companionship faster than a beautiful fire.
​
Fire pits are becoming the norm and every patio is expected to have one. They come in many sizes and shapes and are sure to please everybody.
​
You can build one yourself too if you want to add a unique touch to your patio.
6. Light Up the Space
How usable is your patio when the sun goes down? If you immediately have to evacuate to the indoors then that's a good sign that you need to upgrade your outdoor lighting! Have some fun with this one. There are no rules for patio lighting; anything goes!
​
Some favorites for many people include hanging lantern lights, wall-mounted lights, and tall outdoor lamps. We have noticed that smart string lights were on the rise as they give a particular charm to your space.
​
You can add some glow-in-the-dark flower pots which are a new original way to enjoy your outdoor space.
​
7. Add Something Comfy
​
Just because you're outside does not mean you have to feel like you're outside. The great outdoors are beautiful, but not known for being comfortable! Add some comfort to your patio instead of sticking with hard surfaces or concrete everywhere. Outdoor cushions or pillows, throw blankets, or a colorful outdoor rug are just a few suggestions to get you started!
​
The more comfortable is your space, the more time you'll want to spend there.
​
Trending this year are outdoor loveseats, daybeds and anything comfortable like the zero gravity lounge chair or the floating swing chair.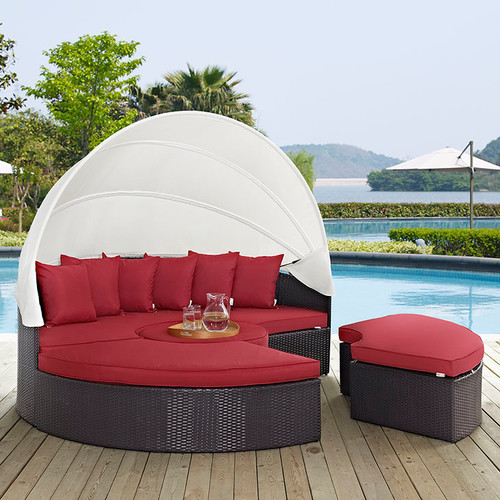 Photo by Alice Welborn – Search patio design ideas
8. Utilize your Green Thumb
So, maybe you don't really have a green thumb. No problem; get a few low-maintenance potted plants and set them around the patio. All it takes is a bit of water every few days and your patio will stay fresh and green all summer!
​
Those will a little more gardening ability can consider doing a small vertical garden on one of the walls around your patio or even a beautiful raised planter bed around the outskirts of the patio. Flowers, veggies, and anything green will add a great touch of life to your patio and make it a very calming place to relax.
9. Swing into Summer with a Hammock
​
Summer days are not all about parties and barbecues. Sometimes you're going to want to sit back and chill out. There is nothing better for this than a hammock or hammock swing. You can get one for very little money and mount it on your patio within just a few minutes! Prepare for a whole new level of relaxation.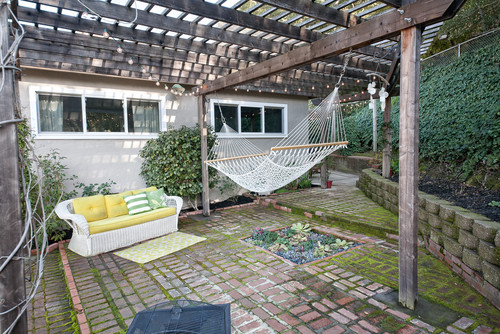 Photo by Naomi – Browse patio photos
10. Bring New Life to Old Things
New outdoor furniture or structure elements might be out of your budget for now. Instead of worrying about that, take your old pieces and make them new again with some fresh paint and repairs.
​
In no time at all you'll be staring at a set of new furniture and wondering why you never did this earlier!
​
Check these 12 Ways to Wake Up your Old Outdoor Furniture.
​
And remember that seating doesn't even have to match anymore so have fun with it!
11. Chill Out with a Fan
Not all summer days are cool and breezy. Some of them are way too hot to enjoy outdoors unless you have some air movement around you. An overhead ceiling fan or a small wall-mounted fan will do the trick. This simple addition might make your space a lot more tolerable at any time or the day.
​
They can also add a stylish touch to your patio, as well as being useful.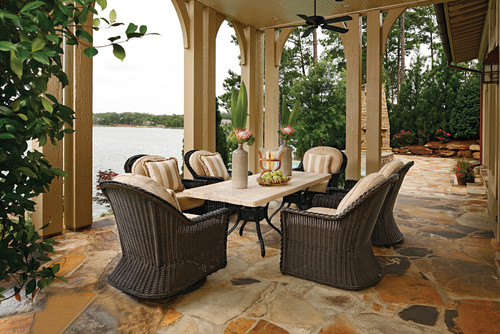 Photo by Summer Classics – Search patio pictures
12. Make a small (or big!) Water Feature
When you hear "water feature", you probably think fountains. Although a small fountain is a great touch for patio design, water features can also be things like a small fish pond or a birdbath. All you need is something to attract a little more fun wildlife around your patio and to break up the monotony of only green spaces.
​
You can even add a waterfall if you have enough space.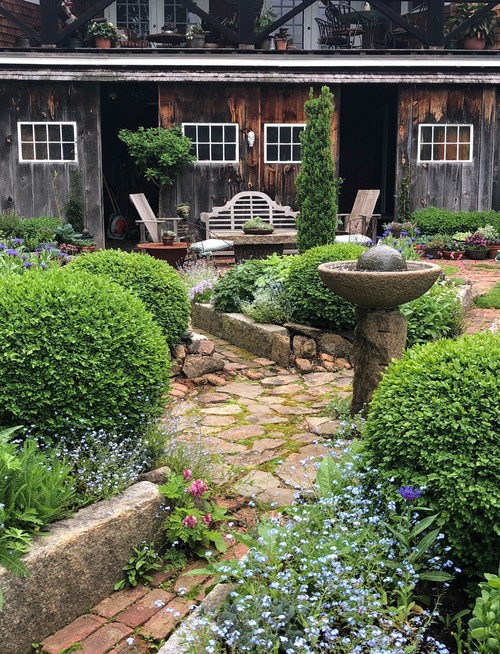 Photo by Hilarie Holdsworth Design – Browse landscaping photos
Get Started Today!
​
Now that you have a few ideas about what to do with your patio, don't delay them any longer. Go outside and set yourself up for a long summer of hanging out on your fantastic patio.
​
The best time of year is about to start so make sure you get the most pleasure out of it!
​